Last night, Lazio striker Ciro Immobile scored one more goal against Napoli and officially won the European Golden Shoe 2019-2020 season. Lazio failed to score 1-3 against Napoli in the last match of the season. However, this failure did not make them lose their place in the Champions League. Besides, the club's main striker Ciro Immobile has enjoyed his own fun.
With a goal against Napoli, the Italian striker increased his goals to 36. That helped Ciro Immobile also received the top scorer of Serie A and the European Golden Shoe.
In the European Golden Shoe race, Ciro Immobile has 2 more points than the second one, Robert Lewandowski (equivalent to 4 points). The third-ranked C.Ronaldo has only 31 goals, 5 points behind Ciro Immobile. In fact, CR7 also let go in this race when actively taking a break in the match against AS Roma last night.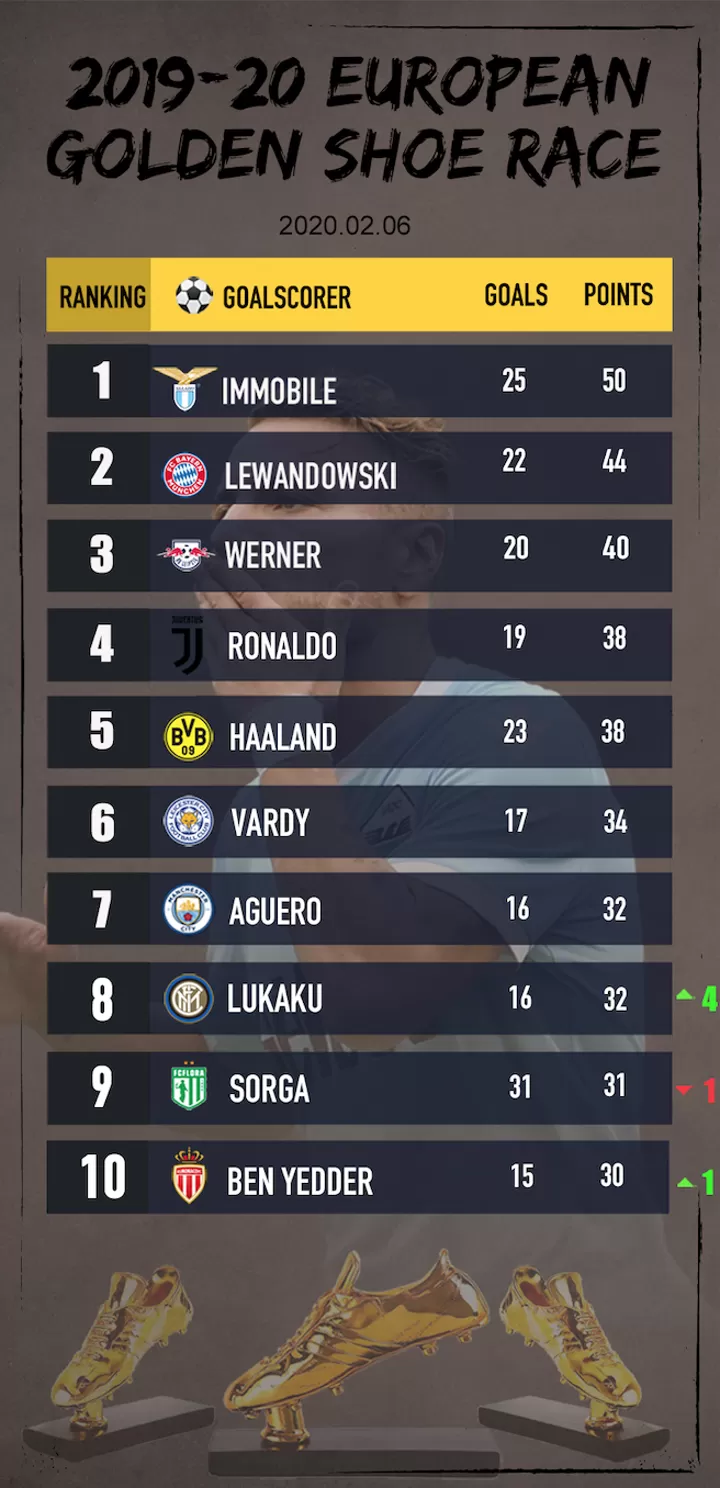 As such, Ciro Immobile became the third Italian player to win the European Golden Shoe after Luca Toni and Francesco Totti. The last time a player in Serie A won the European Golden Shoe was in the 2006/07 season. At that time, Francesco Totti received the title with 26 goals (equivalent to 52 points).
Ciro Immobile has started 36 matches (one pre-match) for Lazio in Serie A this season, with a total of 3,176 minutes to play. Goal difference of strikers born in 1990 reached 88.2 minutes / goal. Besides, he also broke a record when he scored 14 goals from the penalty spot in a season.
If counted in Serie A, this is the 3rd time, Ciro Immobile won the title of top scorer. Previously, he received this award in the seasons 2013/14 (22 goals for Torino) and 2017/18 (29 goals for Lazio).
The Lazio striker also balanced the scoring record in a Serie A season set by Gonzalo Higuain (Napoli, 2015/16 season) and Gino Rossetti (Torino, 1928/29 season) with 36 goals.
If played in the Champions League next season (in case Napoli does not win the Champions League or AS Roma does not win the Europa League), it will help Ciro Immobile assert his talent in the most prestigious tournament in the continent. The last time Lazio appeared in the Champions League group stage was in the 2007/08 season.